Komatsu rebrands some mining products
What if you could dig basements, footings or utility trenches without worrying about overexcavating? How about using the same machine to accurately excavate slopes and finish grade ponds with limited movement? What if you could do it all with little or no need for a finish dozer, stakes or surveying?
According to Komatsu Senior Product Manager Andrew Earing, Komatsu's new intelligent Machine Control (iMC) 2.0 PC210LCi-11 excavator with integrated GPS lets you do all of those tasks and more. Earing noted that testing showed the latest-generation machine improves production by up to 33% and efficiency as much as 63% compared to conventional excavation and grading methods.
"The new iMC 2.0 PC210LCi-11 has added additional satellite systems improving satellite coverage and ability to work in more challenging areas such as near woods or on urban job sites," said Earing.
Bucket angle hold, new monitor
With iMC 2.0 comes bucket angle hold. When activated, it automatically holds the bucket to the design surface during arm-in operation.
"It's less fatiguing for operators, which makes them more productive throughout a shift," said Earing. "It also produces a better finish-grade surface, so there are multiple benefits."
Additional new features include a smaller, slimmer 10.4-inch monitor with more memory and faster processing speed. It has pinch-to-zoom and swipe functionality similar to a smartphone or tablet.
"Customers told us they wanted a more streamlined monitor," said Earing. "This is intuitive and easier to use, so there's decreased downtime navigating through it and more time producing."
Options up versatility
Earing added that users can boost efficiency further with optional features such as automatic tilt bucket control. Using an add-on inertial measuring unit, it allows machine control to manage the angle movement of a tilt bucket to dig and grade surfaces that are not perpendicular to the machine. Users provide their choice of bucket.
"While excavating a deep trench, you can slope the sides back without moving the excavator," explained Earing. "It's also useful on projects with varying contours, such as swales and ponds. Operators can sit in a fixed position and shape those transitions. Less movement saves time and wear and tear on the machine and the operator. We believe most contractors will want to take advantage of this.
"Another feature is optional pressure and flow control for plus-one piping," he continued. "This lets you fine-tune hydraulic pressure and flow on attachments such as hammers, vibratory compactors, processors and more for improved control and versatility."
Semi-automatic functions
The iMC 2.0 PC210LCi-11 maintains the main functions of the first-generation iMC excavators, including the ability to switch from manual to semi-automatic modes.
Among a host of standout features is an exclusive control function that goes beyond simple guidance to semi-automatically limit overexcavation and trace a target surface. Once the target elevation is reached, no matter how hard an operator tries to move the joystick to lower the boom, the excavator won't allow it. This reduces wasted time and the need for expensive fill materials.
Productivity and efficiency features include:
In semi-automatic mode the boom adjusts the bucket height to trace the target surface and minimizes the chance of digging too deep.
Auto stop control halts the working equipment when the bucket edge reaches the design surface to reduce design surface damage.
Minimum distance control regulates the bucket by automatically selecting the point on the bucket closest to the target surface.
The facing angle compass shows the operator the facing angle in relation to the target surface, allowing the bucket edge to be accurately positioned square to the target surface.
"Existing and new technology in the iMC 2.0 excavators has proven to increase production and efficiency while reducing costs," said Earing. "We encourage anyone looking for those attributes to contact their distributor and test one for themselves."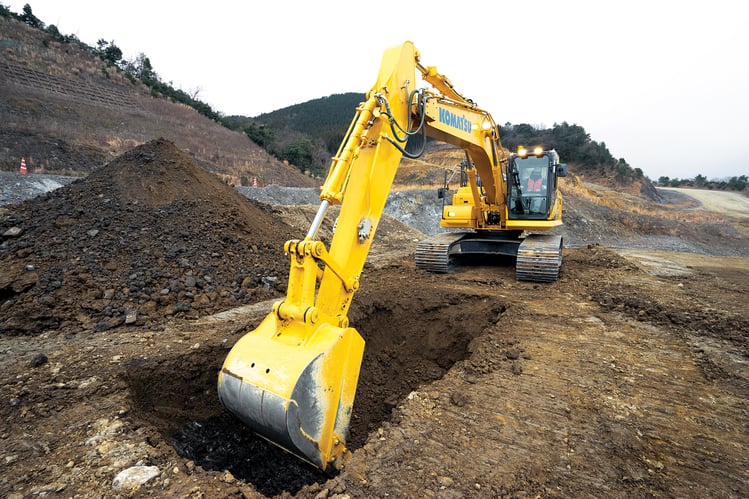 A new feature of the latest-generation PC210LCi-11 intelligent Machine Control 2.0 excavator includes bucket angle hold. When activated, it automatically holds the bucket to the design surface during arm-in operation. "It's less fatiguing for operators, which makes them more productive throughout a shift," said Komatsu Senior Product Manager Andrew Earing. "It also produces a better finish-grade surface, so there are multiple benefits."