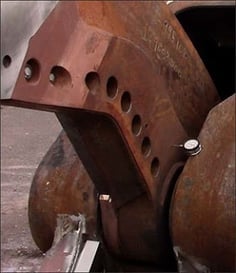 You may remember our previous Tech Tip that discussed pivot group end-play, but it's a topic that comes up often, so we're presenting it again with a little more detail.

Keeping an attachment's pivot group within factory specifications is crucial for proper cutting, extending blade life, and minimizing upper jaw movement and jaw jamming. All Genesis attachments have a 0.001" - 0.004" pivot group end-play.

End-play is the amount of side-to-side movement the upper jaw has in the pivot group, and it's easy to check using a magnetic dial indicator and pry bar.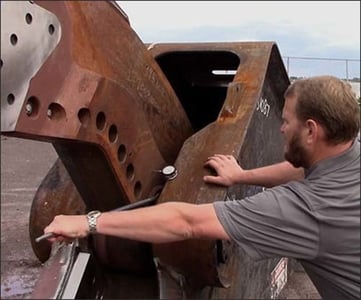 With the jaw open, and no wear components or the auto guide touching the upper jaw, install the magnetic dial indicator on the upper jaw near the pivot group and use the bar to pry the upper jaw to one side.

Zero the dial indicator.
Move to the other side of the jaw and use the bar to pry the jaw the opposite direction of the first measurement.

Check the dial indicator. If the reading is more than 0.004", the end-play should be shimmed to bring it back into spec.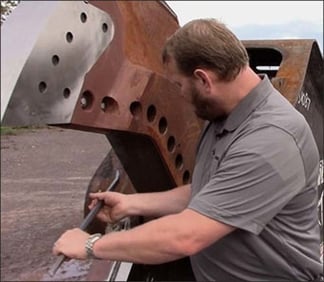 If shimming is required, the pivot group end caps must be removed. We recommend contacting the Genesis Service Department for specific instructions on how to re-shim the pivot group of the attachment you are servicing, as it is also a good time to check main bearing wear.

For additional assistance, you can also watch our video that shows how to check for and measure pivot group end-play
A message from Tim
As always, if you have any service or maintenance questions, contact Tim at 218-349-5755, talseth@genesisattachments.com or Loren at 715-919-8316, llagesse@genesisattachments.com.

Note: the original article appeared in the monthly publication Tim's Tech Tips by Genesis Attachments www.genesisattachments.com
---
A message from Vice President of Sales and Marketing Andy Schwandt:
The pandemic has brought with it new challenges and supply chain issues across a variety of industries. Construction equipment is no exception. Click the video below to learn what you can do to mitigate these issues.